How to grow vegetables
The village of Gasdonka is hard to reach, even during the dry season. At only 56 kilometres from the small town of Kongoussi, it takes about three hours to get there in four-wheel drive. In rainy times, the village is inaccessible.
Now that cereals have been harvested, country life comes to a standstill. Except around barrage lakes: there the water can be used to irrigate vegetables.
The remote village of Gasdonka has a barrage lake, but the villagers have no experience in growing vegetables, which is a relatively new activity in the region. That's why Ocades supports them, through credits, materials and trainings. Thanks to the water availability in the dry season, the farmers have an extra income.

Early October, before the last rainfall, the farmers of Gasdonka sowed onions. The plants in the seed-beds are about to be planted out into the garden. Ocades has first organised a training for the vegetable growers.
Irrigating the vegetables demands most work. By means of a simple foot pump (also used by the peasants of Tougué), the vegetable growers pump the water from the barrage lake to a tank in the middle of their garden, for them to fill their watering pots.
The pump is not complicated to use, but it demands some maintenance. The pistons, made of leather, have to be greased regularly.
Lassané Sawadogo, an innovative farmer with more than 25 years of experience in vegetable growing demonstrates and explains: from seed-beds to fertilisation, irrigation, and finally harvest and conservation.
Preparing the vegetable plot is important: the earth must be loosened down to the correct depth.
Lassané demonstrates with sticks how to plant out the onions: on neat lines.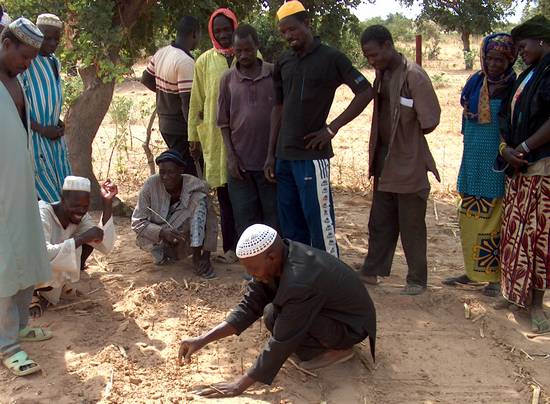 The distance between the sticks is important for the final result: does the consumer prefer small or big bulbs?