On Saturday 17th, they inaugurated "their" school in Ouro.
In the middle of the jungle a real logistic operation has been set up: Masters of Ceremonies, sound technicians, electricity,...
Teachers can't fool the children telling they should be happy with their new school as one can see on their faces...
Daddies, grandpas and uncles shoot in the air and make a lot of noise.
| | | |
| --- | --- | --- |
| Mamas, grandmas and aunties dance and kick up the dust. | | |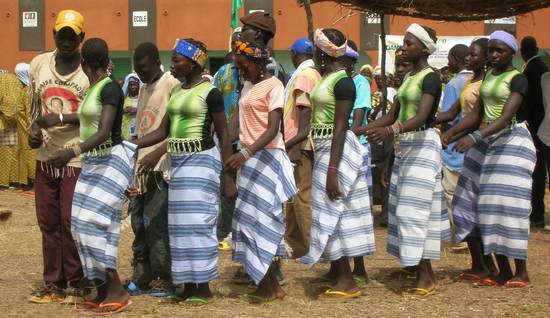 Brothers and sisters, cousins and nieces pay court to each other. The boys with bells on their feet, the girls with colourful new sandals.
CÚcile Beloum has her seat in the Parliament in the capital. She has grown up in the village and she has been assigned godmother of the ceremony.

Mrs Beloum belongs - as everybody who is of importance - to the government party CDP. Apparently the campaign machine never stops: when she is speeching (as one of many!) her party protects her from the sun ("VOTEZ CDP")
One of the classrooms is decorated with a quote of Africa's biggest historian: Joseph Ki-Zerbo. "The school should be the concern of the village, but the village should also be the concern of the school".
The Spanish women got traditional tissues before leaving.
We left at noon, and so we missed the Popular Ball ("Dust Ball").